Spyderco Sheath Gallery
These leather sheaths are for knives by Spyderco Knives based in Golden, Colorado in the USA. Spyderco are one of the most well respected knife companies around today with a long history of quality and innovation. Their catalogue features a wide variety of models to suit all tastes and budgets.
They are also undoubtedly the friendliest of the knife manufactures and constantly engage directly with their customers and fan base often directly taking feedback and ideas from the knife community into their finished products.
Spyderco Bushcraft
Temperance 2
Spyderco Mule
The Mule Team is a blade blank available in a variety of steels and the idea is that you put your own handle of choice onto the blank. People have used many different materials including wood, G10, cord wraps, corian, micarta and so on.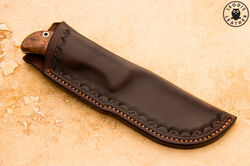 (more )
Dark Brown/Havana Sheath for K390/Redwood Burr